We hope you and your families are well and healthy.
All of our branch locations have remained open,
at their regular days and times,
throughout the pandemic. Most transactions can quickly and easily be done via our mobile and online banking applications though we happily remain ready for you at one of our branches for more complex items that you may want to do in person.
More Info on Our COVID-19 Policies & Procedures

We continue to monitor the status of the COVID-19 pandemic. Our highest priority is the health and well-being of our members and staff.

Some things you should know when visiting one of our SUMA FCU branches:

You will be personally greeted upon your arrival. Entry may be limited depending on the number of members inside and available staff.

If you are not fully vaccinated, you must wear a mask.

If you are vaccinated, you are not required to wear a mask but we ask that you be respectful to others that are unvaccinated and vulnerable.
Hand-sanitizing stations are located at every entrance for your use upon entering.
You will be required to maintain social distancing in all areas, staying a minimum of six-feet away from other members and staff.
We have increased our sanitizing treatment of common areas and protective shields are in place at all teller stations and representative offices.
We thank you for your cooperation and we continue to look forward to providing you the best possible financial services - even during these uncertain times.
What we are doing:
First, we are monitoring the most updated reports from the CDC and from state and local government agencies.
We have significantly increased the frequency of cleaning all of our facilities, with particular attention to counter tops, door handles, and all points of common contact.
We've increased signage around our facilities.
We are asking our staff to please stay home if they have a cough, cold or fever of any kind, or if they think that they may have been exposed to the virus. 
At SUMA, we are committed to keeping our facilities as clean and sanitary as possible. 
What you can do:
Use our drive-up window and ATM at our Corporate Branch at 125 Corporate Boulevard in Yonkers, NY.
Use our Free Visa Debit Card to access your money from your share draft account at any one of our 35,000 surcharge-free ATMs. To apply for a Free Visa Debit Card call a member service representative at 914-220-4900 or apply online.
Bank from home 24/7: use the SUMA Mobile App and Online Banking to pay bills, make SUMA credit card and loan payments, check balances, transfer funds between accounts and more. It is easier than ever to do your banking from the palm of your hand or from your computer.   
Don't have our mobile app? Download our free apps for iPhone® and Android™ on Google play or the App Store. Learn more about our
digital banking
or call or text our member service department at 914-220-4900.
We are dedicated to providing a safe space for our membership to receive the finest financial services and will continue to monitor this developing situation closely while providing you with the latest updates.
Easy Direct Deposit Switching to Your SUMA FCU account

We added a new service for our digital banking users – the ability to quickly and easily switch your direct deposits so that they are electronically sent to your SUMA FCU account.
1) This is what the new tile looks like in our digital banking app: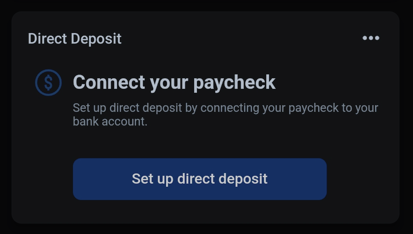 2) After clicking on the "Set up direct deposit" button, a new window opens confirming what is and what is not accessed during this process: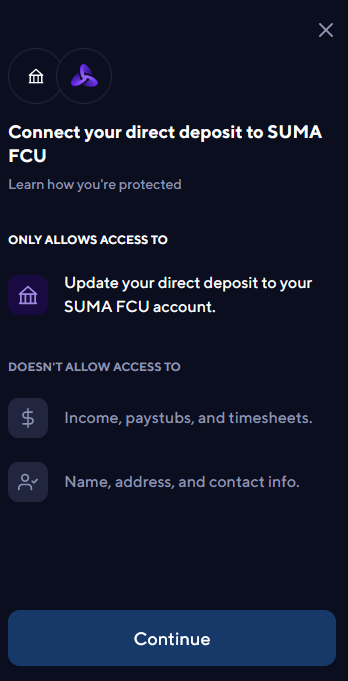 3) After clicking the "Continue" button, you will see a list of your SUMA FCU shares that you can select as the final destination of your direct deposit: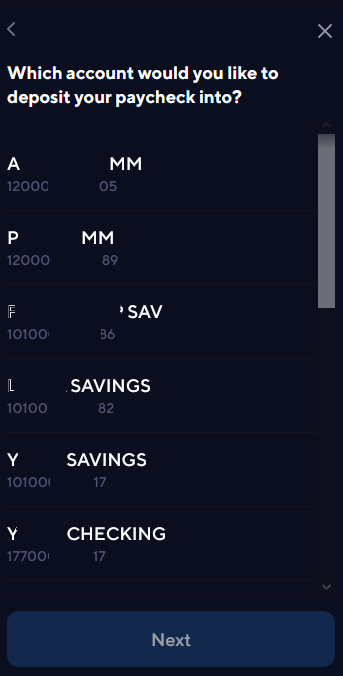 4) After choosing a share and clicking "Next", a new window will show you a list of popular payroll providers, employers, and agencies from which to choose or, if not listed, you can search for yours: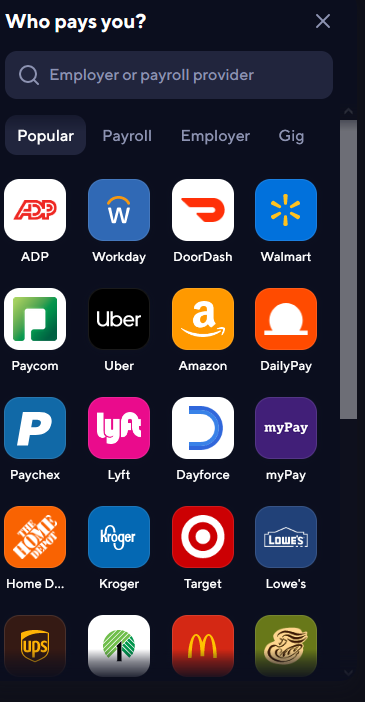 5) After choosing your direct deposit provider, you will see a login window to your provider: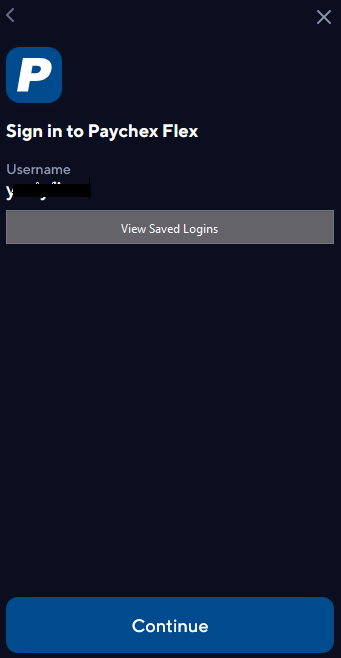 6) After successful login, the "Confirm" button appears - once clicked, the switch is performed: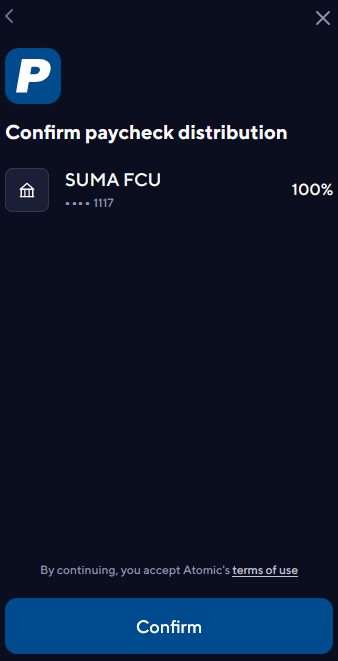 Note: It may take 1 or 2 payroll cycles (depending on the employer/agency) for a switch to complete.
Some payroll providers, employers, or government agencies may require additional verification steps.
If you provider is not listed, reach out to us. We can provide paperwork that you can show your company's HR department to speed up the desired direct deposit switch.
Feel free to contact us, at any point through the process, if you have any questions.
SUMA FCU Holds its 58th Annual Meeting
SUMA Federal Credit Union held its 58th annual meeting on Saturday, April 9th, 2022 at the Ukrainian Youth Center, 301 Palisade Avenue in Yonkers, New York. 
Easy Invoicing & Payments for Small & Micro Businesses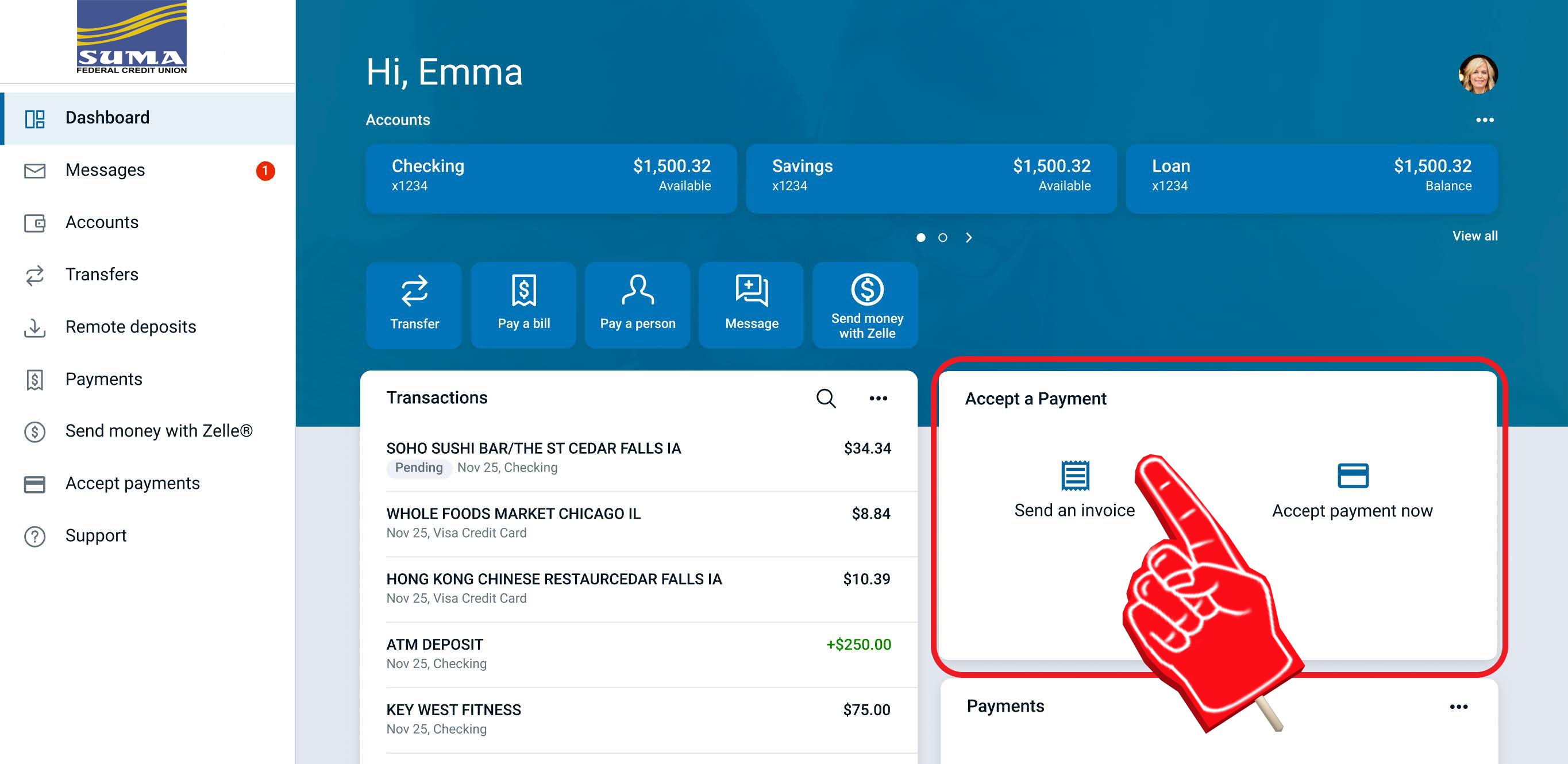 Contact us if you have any questions regarding implementation or to allow us to show you how SUMA FCU's Autobooks can help your business.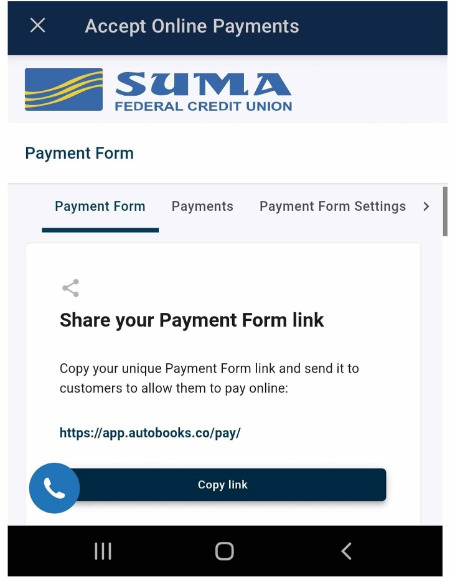 QR codes are now available as a way to get paid by your customers through your payment form. Access your unique and reusable code right now -- just click 'Accept a Payment' from your online banking dashboard and select 'QR code' as your option.

This means that you can now easily share your unique QR code with paying customers, and continue to reuse the same QR code as the need arises.

Sign up through your SUMA FCU digital banking app.
Questions? Reach out to us and let us help.
Upgraded Document Availability via Online and Mobile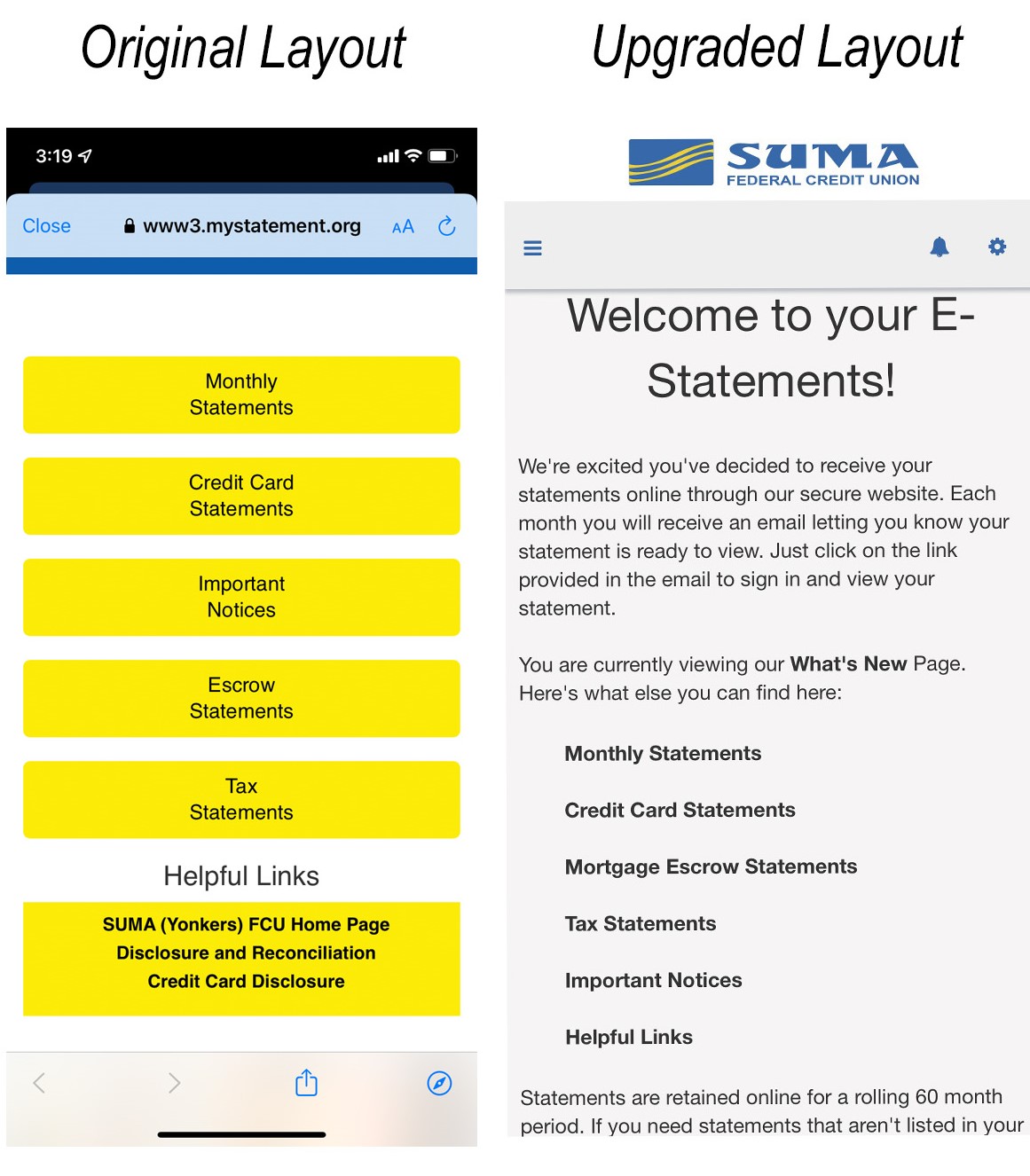 All your statements and tax documentation can be found by:

1) Clicking on the Documents button on your widget bar
2) or you can find a link in any account you may be reviewing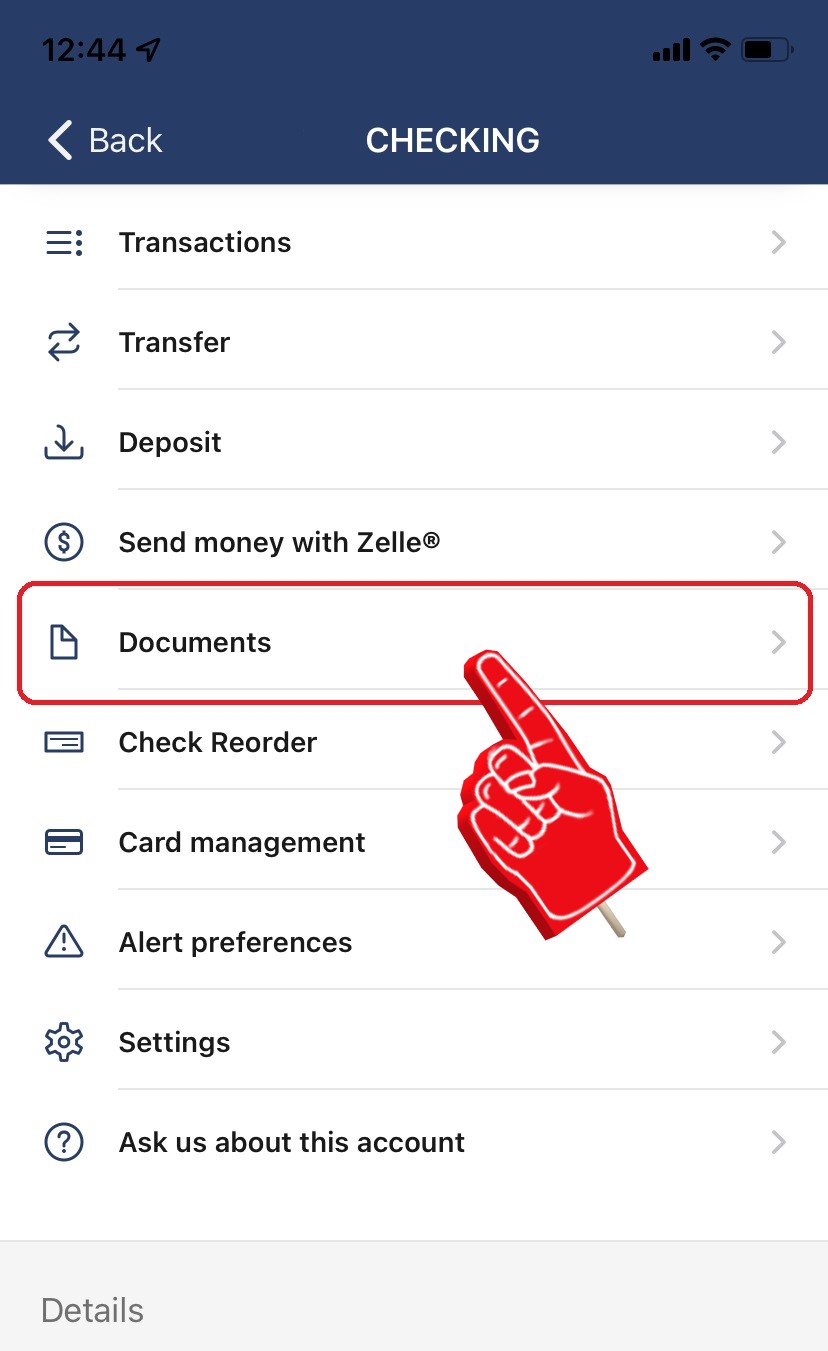 The main advantages of this new interface:
Easier to navigate
ADA compliant – more user friendly to people with disabilities
More secure due to upgraded technology

Additional modern technology (e.g.- HTML-enriched email reminders and the possibility to enrich electronic documents with clickable links, embedded images and videos)

Eligible Shares Now Automatically Visible for Mobile Deposit
To make your usage of the service easier and more user friendly, we have automated the enrollment process of your shares for Mobile check deposit.
Whereas before you had to request your shares to be enrolled manually, now all your eligible shares will show up in the Mobile check deposit menu automatically.
Should you have any questions, feel free to contact our Member Service Dept. via SMS/phone call at 914-220-4900, email to memberservie@sumafcu.org or through the Messages feature of this app.
Principal Only Loan Payments Now Enabled for Online & Mobile Banking
We just enabled a Principal Only Loan Payments option in our SUMA FCU Online & Mobile Banking platforms
To make either a one-time or recurring principal loan payment:
Go to the TRANSFER tab
Choose your From share account to fund the payment

Choose the To loan account you wish to pay

Input the Amount of your payment
Expand the More Options menu
Change the Type from the drop-down from "Regular" to "Principal Only"
Change your Frequency (default is Once) and Date (default is Soonest available) options, if applicable
Then hit the "Submit" button!
This is how the Transfer page with the "Principal only" feature chosen looks like in SUMA FCU Mobile app: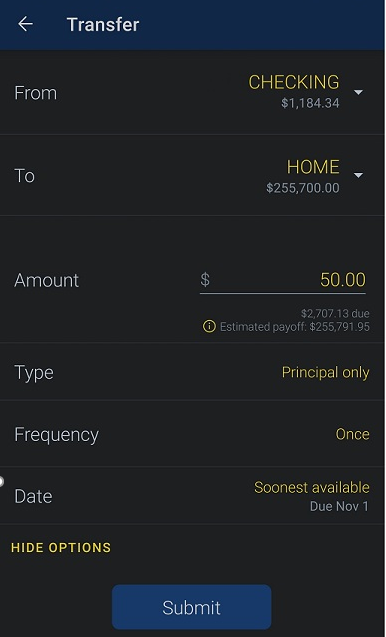 This is how the Transfer page with the "Principal only" feature chosen looks like in SUMA FCU Online Banking: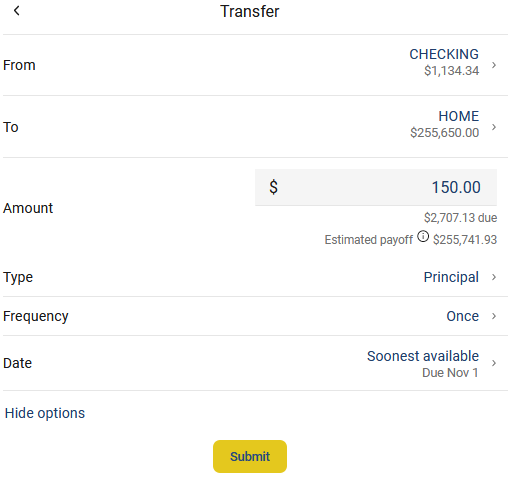 If you have any questions, feel free to contact our loan department or our member service departments for assistance.
Protect Yourself From the Latest Cybersecurity Threats
Bad threat actors continue to be very active and attempt to take advantage of everyone to commit fraud. SUMA FCU, in collaboration with its top-rated cybersecurity partners, is now offering its Cyberthreat Prevention webpage with the very latest in digital security topics to keep you aware of current issues and to hopefully protect you so that you can avoid the many pitfalls.

SIGN UP to receive a weekly email with the latest information to keep you up-to-date
Once clicked, fill in your email address and a verification phrase in the popup.
Note: the verification phrase that you personally selected will be shown at the top of future cyber info emails - providing you confidence that you can click on the story links.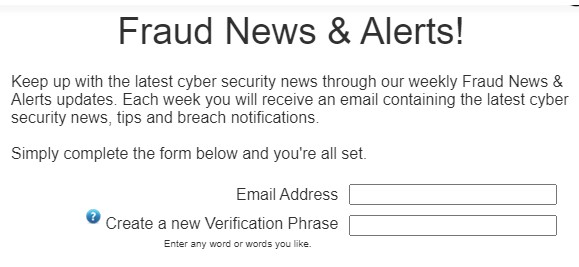 Send and Receive Money Quickly with Zelle
SUMA has introduced
Zelle
— a fast, safe and easy way to send money in minutes* to friends, family and others you trust**, right from the SUMA (Yonkers) FCU mobile app.
Zelle
makes it easy to send money to, or receive money from, people you trust with a bank account in the U.S. Find
Zelle
in your SUMA (Yonkers) FCU app.
FAST
Send money directly from your account to theirs — typically in minutes.*
SAFE
Send or receive money right from your SUMA (Yonkers) FCU app.
EASY
Send money to almost anyone you know and trust** using just an email address or U.S. mobile phone number.
DOWNLOAD THE SUMA (YONKERS) FCU APP:

(Opens in a new Window)

* Transactions typically occur in minutes when the recipient's email address or U.S. mobile number is already enrolled with Zelle.
** Must have a bank account in the U.S. to use Zelle.
*** In order to send payment requests or split payment requests to a U.S. mobile number, the mobile number must already be enrolled with Zelle.
There has been an increase in thefts from mailboxes in the area recently. Mail thefts have been reported in Yonkers, Bronxville and throughout Westchester. Protect yourself so you don't fall victim to mailbox theft!
Here are ten tips to avoid having checks and other important mail stolen: 
Go paperless! Take advantage of SUMA's Online & Mobile Banking services, and specifically BillPay, Alerts and P2P payments. Paying your bills and other items directly from your checking account is safe and easy. When you're conducting your financial transactions through digital banking, you're far more protected than when you send checks through the mail. Digital banking enables you to set up alerts telling you when a check clears and more! If you don't have online and mobile banking, now is the time to set it up.
Refrain from sending checks, gift cards, cash and personal information through the mail.
If you absolutely need to mail a check, gift card or other important item, do so directly from the post office. But beware; these items may be sitting in someone else's mailbox when they get delivered.
When writing out checks that need to be mailed, be sure to use ink that cannot be erased, such as a gel pen.
Avoid using your mailbox flag. A mailbox flag signals that something is inside not only to your postal carrier, but also to a thief.
Don't allow your mail to accumulate in your box for too long. This includes incoming and outgoing. If you need to mail out bills, rather than leaving them in your mailbox when you go to work in the morning, drop them at the post office. If you're going out of town, ask a trusted neighbor to pick up your mail or have the post office hold it.
Have lots of checks coming in or going out? Then consider renting a post office box. It's the safest way to have your mail delivered.
Consider a locking mailbox. It's similar to a normal mailbox, except mail can be put in, but only taken out with the use of a key. If you get lot's of packages, this may not be the best option for you.
Monitor bank activity and your credit report closely, so you catch any discrepancies quickly.
Most importantly, if you see something suspicious around any mailbox, report it to the police immediately.

Making these important changes can help you reduce your chance of being a victim of mail theft and also identity theft. Remember, mail theft is a federal offense. If you believe you were the victim of mail theft, it's important to report it immediately.